Art
Here at Highburton First School we believe strongly that art provides a special way of understanding and responding to the world. We use a variety of teaching and learning styles to encourage confidence in all our children and encourage appreciation of art and artists both past and present. During their time at school the art curriculum enables our children to communicate what they see, feel and think through the use of colour, texture, form and pattern and use different materials and processes in order to produce their own work.
The following is a quote from an artist we study in school called Henry Moore. We think it sums up how important teaching and creating art is and its importance throughout the curriculum in helping us to learn about and understand the world in which we live.
I think drawing ought to be taught seriously, even in primary schools,
as a general part of education, much more than it is, not with the idea
of producing a lot of painters and sculptors, but to get people to look,
to use their eyes. Children are taught that language is a way of
communicating between minds, and that music is communication through the
ears, but they are not taught to use their eyes to understand nature, and
to get nourishment from the visual arts, sculpture and painting. If they
are made to draw something, they have to look at it; they may make a very
poor drawing, but what matters is that for a short time they have looked
I feel sorry for people who go through life never really seeing the world
about them. Everyone thinks they look, but they don't; they don't have
the time, or the training, to open their eyes to the marvellous world we
live in. The whole value of all the arts is to develop our experiences of
life through our senses; a sculpture, for example, can make us realise
what wonderful forms and shapes there are in the world, and what can be
invented by human beings.
Year 4 & 5 Viking Topic
The Viking shields are finished!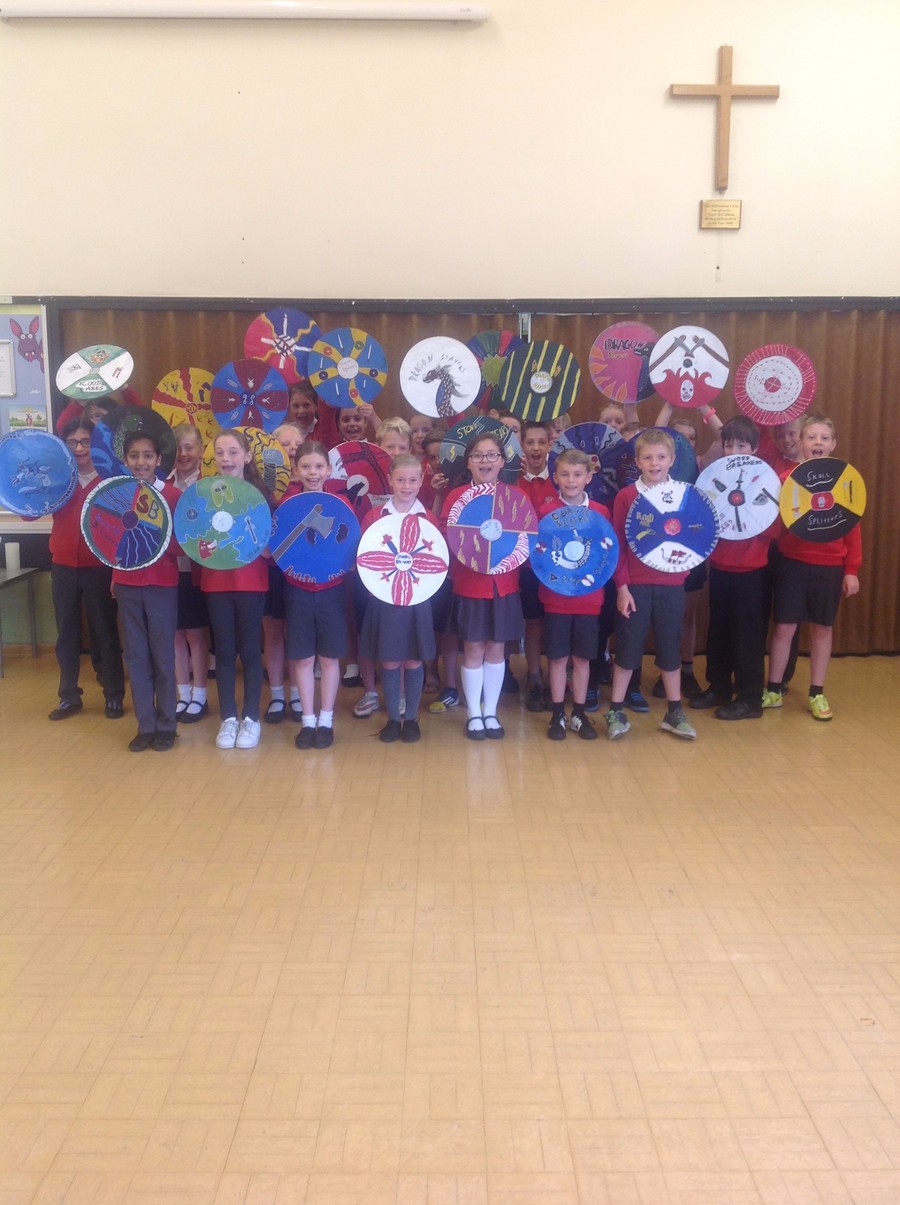 Designing and making shields and helmets.
School Displays
We think our children are very talented. Please enjoy looking at our galleries.