Religious Education
Highburton First School is a Church of England School. We follow the Kirklees agreed syllabus for RE. All the children have one hour of R.E each week. At some point during their time at school they will have the opportunity to visit a mosque and a synagogue as well as All Hallows Church in Kirkburton.
The R.E (Religious Education), PSHE (Personal, social, health, economic) and SMSC (Social, Moral, Spiritual, Cultural) displays around school reflect the curriculum work done in the classrooms. This can be in the form of art work, photographs, activity based or simply information. These displays are changed on a regular basis.
What are our core values?
The children produced a piece of art work to represent one of the core values.
Friendship - People, Togetherness, Happiness, Inclusion
Forgiveness - The symbol of the cross
Aspiration - What do you aspire to?
Respect - How can we show respect? What does respect mean?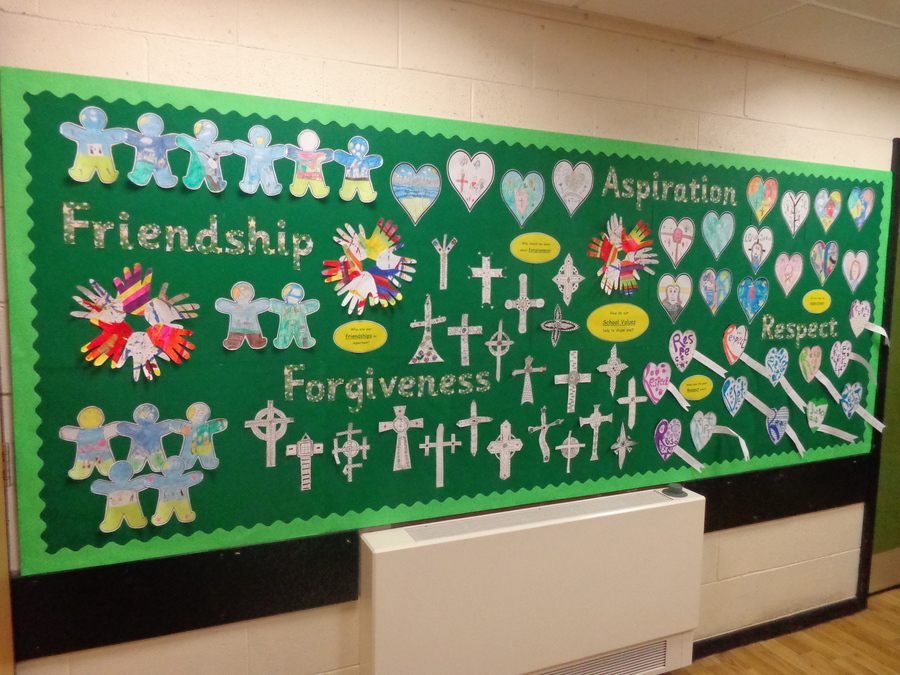 Hand to Mouth Puppets - The Trinity
Year 3 and Year 4 enjoyed a visit from the Hand to Mouth puppets and learnt about 'The Trinity.'
Harvest Festival
We celebrated Harvest Festival at All Hallows Church. The whole school walked to church and performed for their parents. The performances included singing hymns, reading poetry, plays about 'The Rainbow People' and dancing and singing to the Harvest Rock and Roll. A special thank you to the collective worship team for leading the service in church. Take a look at the children in action...
R.E. Area Displays
Christian Symbols - What are the Christian Symbols and what do they mean?

PSHE - Have you filled a bucket today? How can you make someone else feel good?

All Hallows Church Visits - Year 3 and Year 4 Church visits

Christian Values - What are the Christian Values and what do they mean?

The First Christmas - How do we celebrate the birth of Jesus?

The Creation Story - Created by Year 5

The Kindness Elves - Watching out for Kindness acts displayed by the children!

Throw Kindness around like Confetti - A board to demonstrate acts of Kindness

Baptism - celebrations of birth - Created by Year 2

New Years Resolutions - What would you like to achieve next year?

Judaism - a topic covered by Year 3 during the spring term
Collective Worship
Each term the Year 5 team put together a collective worship about our theme.
The theme for this collective worship was forgiveness.
The children included drama, poetry, questions, stories from the bible and a prayer that they had written.
Well done Collective Worship team! :)