Religious Education
Highburton First School is a Church of England School. We follow the Kirklees agreed syllabus for RE. All the children have one hour of R.E each week. At some point during their time at school they will have the opportunity to visit a mosque and a synagogue as well as All Hallows Church in Kirkburton.
The R.E (Religious Education), PSCHE (Personal, social, health and Citizenship Education) and SMSC (Social, Moral, Spiritual, Cultural) displays around school reflect the curriculum work done in the classrooms. This can be in the form of art work, photographs, activity based or simply information. These displays are changed on a regular basis.
Collective Worship Team 2017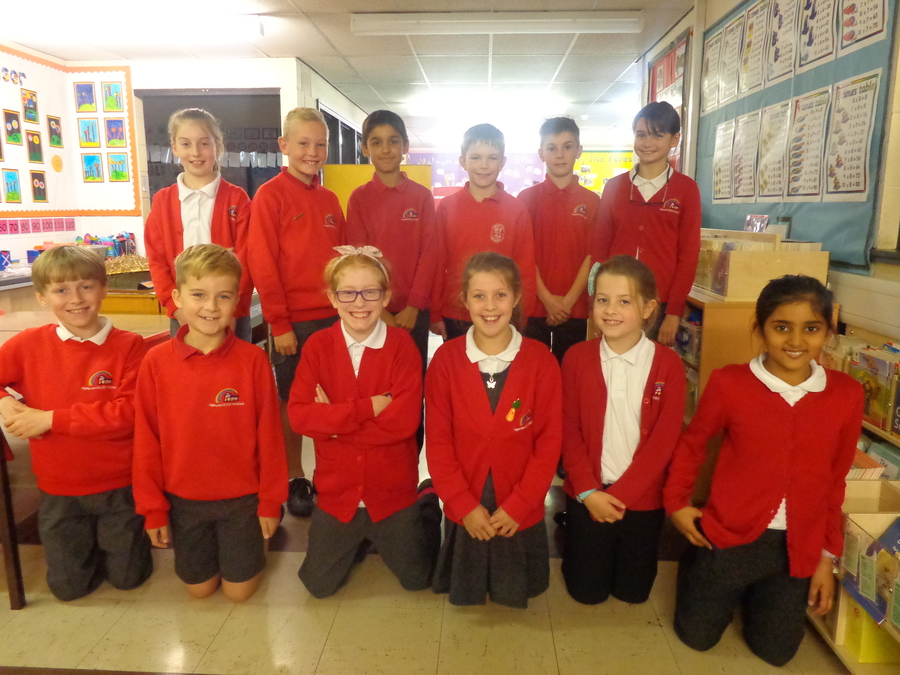 What are our core values?
The children produced a piece of art work to represent one of the core values.
Friendship - People, Togetherness, Happiness, Inclusion
Forgiveness - The symbol of the cross
Aspiration - What do you aspire to?
Respect - How can we show respect? What does respect mean?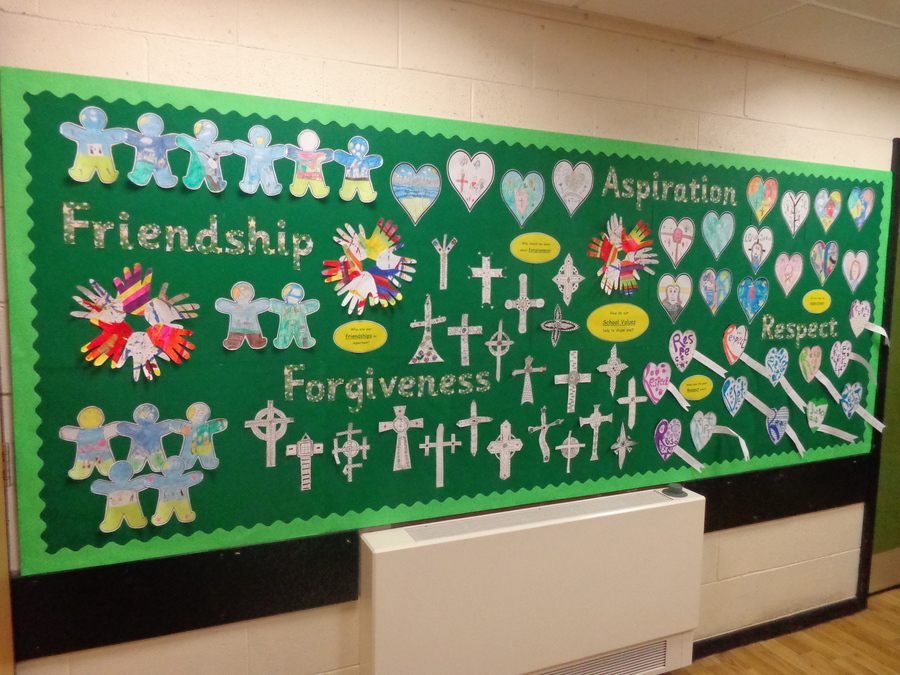 Hand to Mouth Puppets - The Creation
The whole school enjoyed a visit from the Hand to Mouth puppets and learnt about 'The Story of Creation.'
Harvest 2017
We celebrated Harvest Festival at All Hallows Church. The whole school walked to church and performed for their parents. The performances included singing hymns, reading poetry, plays about 'The Rainbow People' and dancing and singing to the Harvest Rock and Roll. A special thank you to the collective worship team for leading the service in church. Take a look at the children in action...
Autumn Displays 2017
Christian Symbols - What are the Christian Symbols and what do they mean?

PSHE - Have you filled a bucket today? How can you make someone else feel good?

All Hallows Church Visits - Year 3 and Year 4 Church visits

Christian Values - What are the Christian Values and what do they mean?
Collective Worship Team 2016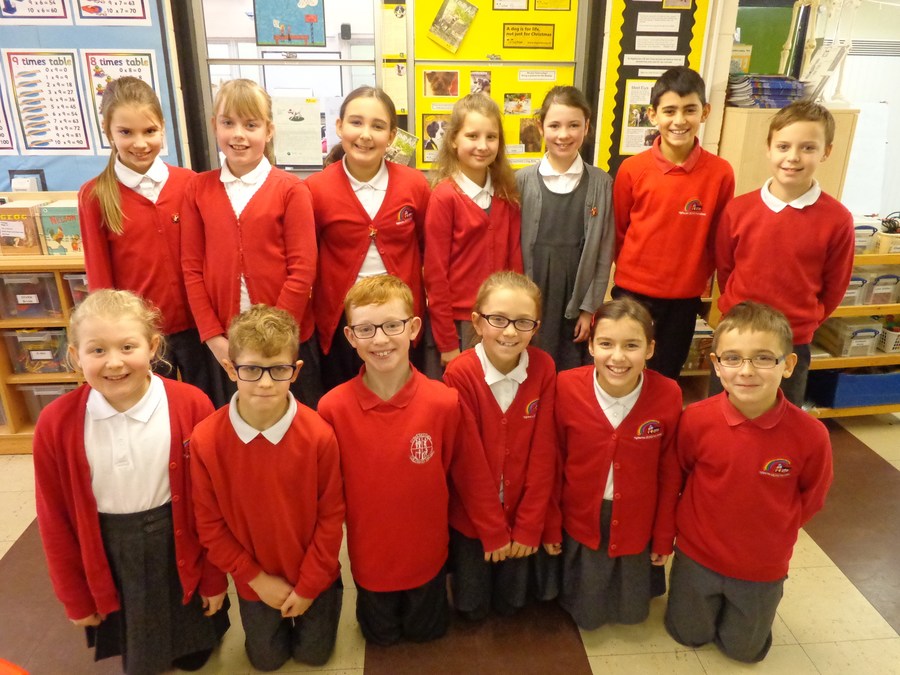 "Hi! We are the Collective Worship team. Our responsibilities include leading assemblies in school and in Church, setting up for assemblies and helping with the daily routines in school. We also have regular meetings with Mrs Glossop to discuss upcoming events and assemblies that we are leading. We are looking forward to all of the special celebrations in Church."
Summer Displays - 2017
Below you can see some of our summer displays:-
Islam - What does it mean to be a Muslim?

Prayers and Praying - Why are prayers important? Who will you pray for?

Moving On Tree - What are your aspirations for your new class or new school?

Images of Jesus - What do you imagine Jesus to look like?

Our Core Values - How can you show Friendship? Forgiveness? Aspiration? Respect?

Mosque Visit - What did Year 1 learn during their visit to the Mosque?
Spring Displays - 2017
During the Spring term the children have been thinking about their goals for the new year and the qualities of a leader and leaders within school. Lent and Easter are also two very important parts of the Christian calendar. The children will think about what they can give up for Lent and will add their ideas to the Lent tree. What could you give up for Lent?
Easter Celebrations 2017 - What's happening at Highburton?
* We are celebrating Easter at All Hallows Church on Tuesday 4th April
at 2pm and we hope to see lots of you there!
* Reception parents are invited to join us for the Easter Bonnet Parade
on Thursday 6th April at 3pm in the school hall.
* KS2 Easter Egg Display and Easter Fayre - Thursday 6th April at
3:30pm - 4:30pm within the school.
* The children in Year 3 recreated an Easter wreath telling the Easter
story. What can you see in the photographs below?
Autumn Displays - 2016
Here are some of our Autumn Displays including The Bible, New Beginnings, Friendship, The Hope Tree, The First Christmas and Christian Values. After looking at work by Hazel McNab, the whole school created their own Inspiring Heart and completed a piece of work about the Incarnation. These can be seen on the photographs below.
Autumn Assemblies - 2016
Hand to Mouth puppets came to deliver an assembly about Daniel and the Lions Den. The themes of this assembly linked to our Christian values and were focused on jealousy and forgiveness.
Friendship - 2016
Friendship is one of our core values at Highburton First School. The children took part in an assembly in which they thought about the key features of a good friend. They also have a friendship book to fill in to share their thoughts and ideas about their friends and what kind of friend they are.
Anti-Bullying Week - 14th to 18th November 2016
The collective worship team delivered an assembly on anti-bullying. They highlighted the types of bullying and ways that it can be addressed including the befriender system. The children performed a piece of drama, wrote their own prayer and made a movie maker. Well done!
Key Stage One Nativity
The children in Key Stage One are performing 'Hey Ewe!'
Here they are in their costumes all ready for rehearsal.
We are sure that they will do a great job!
Key Stage Two Christmas Concert
The children in KS2 performed their Christmas Concert at All Hallows Church. Each class prepared different performances such as Christmas poetry, playing a musical instrument, singing a Christmas Carol or speaking about Christmas traditions. The collective worship team led the concert and retold the Christmas story.